As the month of May is coming to an end, the heated housing market is still picking up speed. The latest report from the California Association of Realtors continues to show us record numbers in median prices. As interest rates have stayed near the lowest levels ever, buyers' interest remained strong, and prices are still moving up. California median price broke yet another record at $813,980. Also, the increase in price is not emerging from just a small pocket of neighborhoods but all 51 counties communicated increased median price compared to the same time a year ago.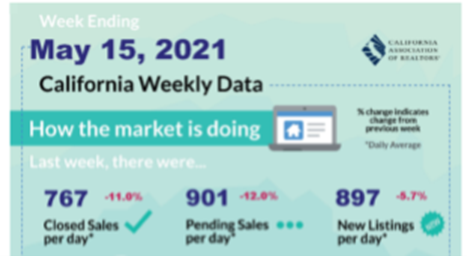 There is also a noticeable upsurge in the sale of homes over $1M. While a year ago only about 1 out of 6 home sales were above $1M, last month about a third of the transactions were from the higher price range.
The lack of supply compared to the demand for homes is still creating strong competition all around the state. As the chart below shows homes are still going pending faster than coming on the market.
According to a Realtor survey, reported by CAR, almost a quarter of the homes sold with more than 10 offers and more than 2/3 of the listings sold above asking price. The competition is at its highest level since 2008.

On the other hand, with rising prices, we have also seen affordability sink to its lowest level since 2018. The latest drop in affordability is quite significant as about 35% of Californians could afford a median priced home in 2020 compared to only 27% of them right now. The numbers seem drastic even though overall household income has increased, and interest rates are still low.


In other industries, there is a mixed review of how the economy is coming back to life. While retail was fairly flat in April, the cars and food industries have seen a strong comeback. Builders have continued to stay confident since the lack of resale homes available have driven many buyers toward new home builders. Even though builders are facing an increased cost of both material and labor, the high demand is making up for the difference in expenses.
Do we expect to see any change in the foreseeable future? Maybe, a slight rise in interest rates. Through the middle of the month, interest rates were still under 3% but experts expect them to break that barrier by the end of the month or early June.


As you can tell, this demanding market definitely has great advantages for both buyers and sellers. However, in order to find the most beneficial option for you personally, be sure to reach out to me!
Information was provided by the California Association of Realtors.