As the traditional buying/selling season of the year officially starts off, our already busy market is only expected to pick up speed. While those of us in the industry have a hard time imagining that the market could get any more competitive, seasonally this is the time many families are moving in order for their kids to be in the school district of their choice by the fall.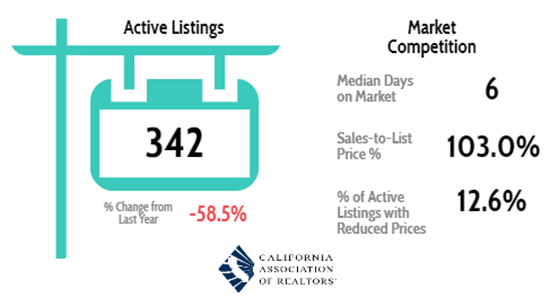 The California Association of Realtors just released their final numbers for April and for the first few days of May. The trend we have seen for the last few months continues at a staggering pace. During the month of April, closed sales showed a 40%+ increase compared to the same time a year ago, while the first week of May already showed a 52.5% increase.
Rates have stayed very similar to the week before at about 2.98% for a typical 30-year mortgage, which is a very small change from 2.97% the week before. As rates have stayed below 3%, mortgage demand increased 8.6% last week. With the 10-year Treasure rate is slowly going up, we should expect a gradual increase in interest rates as well. Unfortunately, the combination of rising prices due to the lack of available homes for sale, combined with increasing rates is only fueling the fears of buyers that they will be priced out of the market if they do not buy something soon. This sense of missing out places additional pressure on buyers, making the cycle even worse.

The chart above shows our current state of the market in San Joaquin County. As homes are staying on the market less than a week on average, the list price – sales price ratio has climbed to 103% which is the highest CAR has recorded in over 2 decades.
On another positive note, homeowners who have fallen behind on their payment due to the pandemic seem to be catching up on their back payments. In total, the number of mortgages in forbearance is less than 4.5% per the latest information from the Mortgage Bankers Association. This is a drop compared to the week before and a huge decrease from last June when it was at its highest. Most of the people who have fallen behind have either made up the back payments or created a plan to do so.
Outside of Real Estate, there is also positive news regarding the virus, especially in California. Per CAR, over 45% of Californians are at least partially vaccinated, and infections are on the decline. It seems that we are finally seeing some hope and a slow return to normalcy. Of course, it is a long road to recovery, but we seemed to be moving in the right direction.

As always, remember that I am always here to help with all your real estate needs. Contact me anytime.